Order Yours Today!
CONTACT US
1-800-278-4279
FAX 405-282-1130


---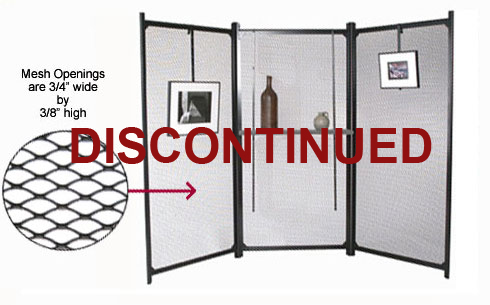 Click here for Carpet Insert Colors
Configuration Examples
*Standard finish is a Satin Anodized (Aluminum in color)
Optional Powder Coat colors include: Black, White, Cream or Bronze
Add 20% to price for Powder Coat Color
Prices
1 – 3' 2" x 6' 6" System Panel - $135.00*
Also sold in a Stackable Version
1- 3' 2" X 6' 6" System Stackable - $175.00*
(Photo shows 3 Panels on 45 degree angles)

The System is the original Armstrong display. Each panel is 3' 2" wide by 6' 6" tall and will hold up to 100 pounds distributed weight per panel. It can be set up in virtually any configuration, depending on the number of panels used. The connectors allow any panel to rotate a full 360 degrees.

Compact
Each panel is only 1" thick and they will fold flush against each other for transporting.

Completely Modular
Start with any number of panels to fit your current needs and add additional panels as your needs change.

Unique Connector System
Our specially designed 2-way, 3-way, and 4-way connectors allow you to create any angle, set up in a perfect square or turn a 90 degree angle. Each frame can rotate a full 360 degrees on our unique hinge connectors. You can make these displays fit virtually any size or shape of space.